Following around four-and-a-half months of accessibility, iOS 7 is now installed on 80 percent of tools linked to the App Store, baseding on the latest numbers published on Apple's App Store help web page for developers.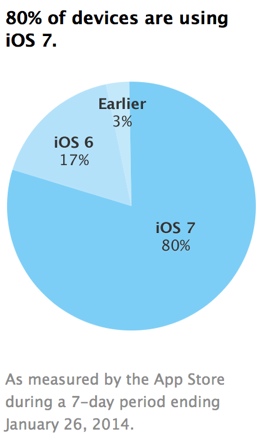 As iOS 7 adopting numbers grow, iOS 6 usage remains to drop, and the older operating system is now installed on merely 17 percent of devices. Three percent of devices also continue use also older versions of iOS.
In early December, iOS 7 use went to 74 percent, jumping to 78 percent later on in December, while iOS 6 use initially decreased to 22 percent and afterwards to 18 percent.
Apple's information, which comes straight from the App Store, represents the most exact iOS 7 fostering info for developers.
You can follow iPhoneFirmware.com on Twitter or join our Facebook page to keep yourself updated on all the latest from Apple and the Web.