With approval from Apple, elderly software engineer Greg Christie just recently talked with The Exchange Diary about the advancement of the initial iPhone, revealing some information in advance of a new patent test involving Samsung. The initial post concentrated on the iPhone's software application features, while a follow-up record highlights the atmosphere and hardware that was utilized in this software program advancement procedure.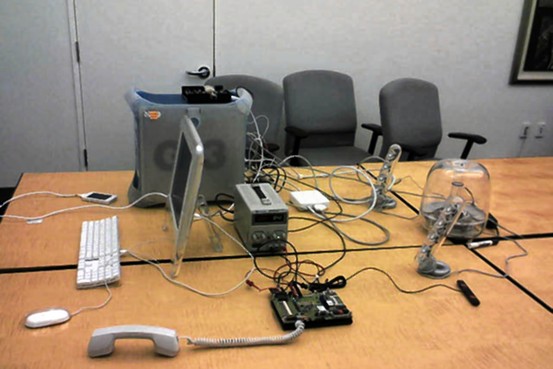 Apple's equipment setup for screening very early prototype iPhone software application
Baseding on Christie, design decisions on early variations of Apple's iPhone OS were made in a drab, windowless room with Mac hardware running the software program and a big touchscreen tool, "Wallaby", simulating the screen of the mobile device. The space is also where Christie consulted Steve Jobs to introduce the iPhone team's job.
It doesn't suggest that the windowless space, lit by fluorescent lightings hanging from the ceiling, resembled anything unique. Christie remembered the walls had indicators of water harm from a flood in a surrounding washroom. A few images covered the wall surfaces including one of Apple's "Assume Different" posters of renowned visuals designer Paul Rand and another of a huge poultry running around without its head.
These information on the development of the iPhone were launched in development of a 2nd U.S. patent violation test between Apple and Samsung that is set to begin March 31. Apple prevailed in the first trial and was granted a judgement of $$ 890 million. This upcoming test targets much more recent bargains such the Galaxy Note II, the Galaxy S III, the iPhone 5, and the iPad 4.
You can follow iPhoneFirmware.com on Twitter or join our Facebook page to keep yourself updated on all the latest from Apple and the Web.