Last week, news came out that Bozoma Saint John — Apple Music and iTunes head of Global Consumer Marketing — was planning to leave Apple, without any indication given as to why Saint John was leaving Apple or where she planned on working next. TechCrunch is today reporting that the former Apple executive is now looking to head to Uber, although her specific role at the ride-hailing company is unclear.
Given Saint John's background in marketing, a similar position is predicted for her at Uber. According to sources, Uber is looking at Saint John's hiring as a way to "turn the tide on recent issues," suggesting that she might be coming in to help shift the negative spotlight placed on Uber in recent months.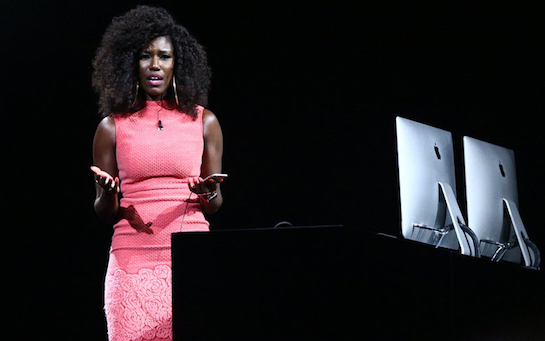 We received the news via a tip, and have confirmed the appointment through multiple sources at Uber. The company, we understand, views the appointment as important in helping "turn the tide on recent issues."

As for what role she will be taking, that's something we're still trying to figure out. We understand that Uber will be making more details public later. Saint John's track record is in marketing — most recently at Apple but also with a long stint at Pepsi, among other places.
Over the past few months public opinion regarding Uber and its company culture has been largely negative online. The backlash against Uber reached new heights in January, when users began a #DeleteUber hashtag on Twitter in response to Uber's decision to keep up and running throughout the strike at John F. Kennedy International Airport in New York, where protesters fought against President Trump's executive order banning immigrants from specific countries entering the U.S.
In addition, Uber's background GPS tracking tactics caused worry by users online last year, the FTC filed a complaint against the company for posting inflated yearly wages on various job-seeking websites, Waymo sued Uber for intellectual property theft, and it came out that Apple CEO Tim Cook was on the verge of removing Uber from the iOS App Store after Apple discovered that Uber was secretly "fingerprinting" iPhones that used the app.
If she officially joins Uber, Saint John would be one of the newest hires following a collection of departures from the company over the past six months. These include: Brian McClendon (VP of maps and business platform), Jeff Jones (president), Gary Marcus (AI lead), Rachel Whetstone (SVP of communications), Sherif Marakby (VP of global vehicle programs), Ed Baker (VP of product), Amit Singhal (SVP of engineering), and self-driving car head Anthony Levandowski, who was tied to the Waymo lawsuit.
Tag: Uber
Discuss this article in our forums
You can follow
iPhoneFirmware.com
on Twitter, add us to your circle on Google+ or like our
Facebook page
to keep yourself updated on all the latest from Apple and the Web.