Puzzle game Cut the Rope: Magic has been named Apple's App of the Week, and as a result, it will be available for free for the next seven days. Normally priced at $0.99, this is the first time Cut the Rope: Magic has been available for free since it was released in December of 2015.
Anyone who has played a game in the Cut the Rope series will be familiar with the gameplay mechanics in Cut the Rope: Magic, which involves solving puzzles and slicing ropes to get treats to Om Nom.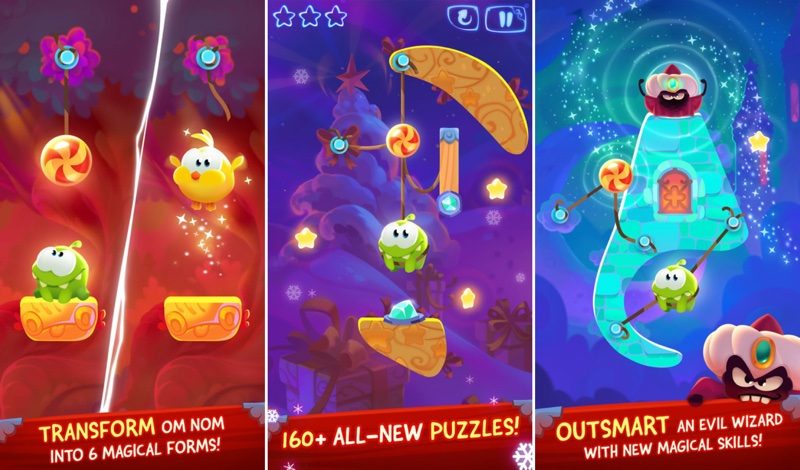 In this version of the game, Om Nom transforms into different magical characters as players progress through the levels, and there are new graphics, sound, and gameplay elements. On Nom can become a bird, baby, fish, mouse, spirit, and dragon, all of which have unique abilities for completing puzzles.
A magical mishap has accidentally teleported Om Nom to a mystical world filled with challenging puzzles for players of all ages. Can you use Om Nom's new skills to solve an evil wizard's tricks and traps? The latest installment of this globally popular entertainment franchise puts a fresh spin on Cut the Rope's iconic physics-puzzle gameplay, introducing more than 160 all-new magic-themed levels across a richly imagined, colorful world.
Cut the Rope: Magic will be available for free until next Thursday, when a new App of the Week will be chosen. It can be downloaded from the App Store. [Direct Link]
Tag: App of the Week
Discuss this article in our forums
You can follow
iPhoneFirmware.com
on Twitter, add us to your circle on Google+ or like our
Facebook page
to keep yourself updated on all the latest from Apple and the Web.