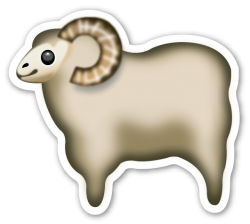 Merriam-Webster recently announced that it has added "sheeple" to its dictionary, an informal word that it defines as "people who are docile, compliant, or easily influenced" and thereby "likened to sheep."
The first example of the word in a sentence is pretty unremarkable…
James Nichols, who ran the family farm here, stamped dollar bills with red ink in protest against currency and told his neighbors that they were "sheeple" for obeying authority like livestock. — Sara Rimer and James Bennet
…but then there's this:
Apple's debuted a battery case for the juice-sucking iPhone—an ungainly lumpy case the sheeple will happily shell out $99 for. — Doug Criss
Merriam-Webster, which dates back to 1843, says the first usage of the word "sheeple" was in 1945, long before the advent of the Mac, iPod, iPhone, iPad, and Apple as a company altogether. For what it's worth, the word's popularity apparently falls within the bottom 10 percent of its dictionary.


Wake up!

'Sheeple' is in the dictionary now. https://t.co/pbXVADEoBm

— Merriam-Webster (@MerriamWebster) April 27, 2017
Sadly, this is not the Onion.
Discuss this article in our forums
You can follow
iPhoneFirmware.com
on Twitter, add us to your circle on Google+ or like our
Facebook page
to keep yourself updated on all the latest from Apple and the Web.