A new patent filed by Apple last year, and published recently by the United States Patent and Trademark Office, details a future iteration of the AirPods charging case that could simultaneously recharge the wireless headphones as well as an iPhone or Apple Watch. In the patent, Apple has visualized an AirPods case that, when placed flat on a surface, could turn into an Apple Watch charging pad thanks to a "wireless power transmitting component" (via Patently Apple).
This would allow the AirPods case to double as a portable charging battery, providing power to both the AirPods internally and a separate device externally. The patent depicts multiple ways for the case to detect if an external device is ready to receive transmitted power, including an optical sensor, a mass sensor, or a mechanical interlock or button. When any of these methods are activated, the case would begin charging the external device, which also could include MacBooks.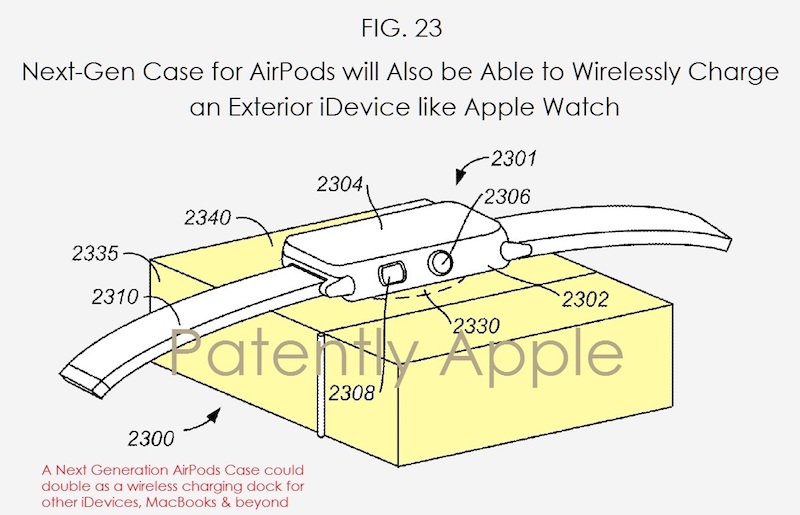 Image via Patently Apple
"Such devices can include, for example, portable music players (e.g., MP3 devices and Apple's iPod devices), portable video players (e.g., portable DVD players), cellular telephones (e.g., smart telephones such as Apple's iPhone devices), video cameras, digital still cameras, projection systems (e.g., holographic projection systems), gaming systems, PDAs, as well as tablet (e.g., Apple's iPad devices), laptop (e.g. MacBooks) or other mobile computers. Some of these devices can be configured to provide audio, video or other data or sensory output."
Additionally, a future version of the AirPods case could have an entirely waterproof design, providing even further protection to the AirPods when they're placed within the charging case for long periods of time. Apple's patent depicts ways that the AirPods charging case could have simple water resistance, or could include a full waterproof seal that would be able to survive submersion up to 100 feet for 30 minutes.

Apple notes that In various embodiments the liquid-tight seal shall be rated between 3 (spraying water) and 6 (powerful water jets) while in some embodiments the liquid-tight seal shall be rated between 4 (splashing water) and 7 (immersion up to 1 meter). In various embodiments the liquid-tight seal shall be rated between 5 (water jets) and 8 (immersion beyond 1 meter) while in some embodiments liquid-tight shall mean the seal will protect the electronic device against liquid ingress up to 100 feet for 30 minutes.
Wireless charging has been rumored for this year's upcoming iPhone 8, which is said to most likely use Apple's in-house wireless charging methods — like the Apple Watch's inductive charging — and not an extended-range solution. If the company integrated an inductive charging pad right onto the AirPods case, it would be an interesting mobile solution for users to juice up their Apple Watch or iPhone, but the amount of power that the AirPods charging case could hold remains unclear.
Related Roundups: Apple Watch Series 2, watchOS 3, iPhone 8 (2017)
Tags: patent, AirPods
Buyer's Guide: Apple Watch (Neutral)
Discuss this article in our forums
You can follow
iPhoneFirmware.com
on Twitter, add us to your circle on Google+ or like our
Facebook page
to keep yourself updated on all the latest from Apple and the Web.